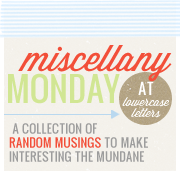 I loved participating in Miscellany Monday last week, so I thought I'd give it another go! It's like a big Brain Dump for me...which I can really use!
*******************************************************
Miss Elisabeth has started accepting students for piano lessons. (She is so cute I could just eat her up!)
Here is a snippet of one lesson that she and Noah had just this morning.
E: "Noah, don't rush."
E: (as Noah literally bangs on the keys) "Noah! That sounds very unpleasant!"
In case you're getting any fancy ideas of signing up for lessons with her...




please note that Miss Elisabeth has a waiting list.
**************************
We had some major misbehaving going on this past week. But it wasn't one of the children...it was the Silver Bullet!
The Lord could not have worked the timing of the whole thing better, though. As we were driving to Amy's house for a playdate, the van just....stopped going. It would not respond when I pushed the gas. (Thankfully the brake and steering still worked fine. ) It would just coast when I was in Drive or Reverse.
What's a girl (in a big 'ol Silver non-cooperative van) to do? Coast on over to my friend's house. Drop off children. Coast on over to the dealership (at an average of 5 mph), which is thankfully only about 2 miles away from our house. If I was going down a hill, the van would get up to 15 mph, but if I was going up a hill, I literally went 1 mph.
Amy loaded up all the kids and came and fetched me from the dealership, but she gave me the 20 minutes lead-time that I knew I'd need at the speed I was going!
And Vicki (who happened to be coming over that afternoon for visiting, playing, and...oh, yeah, speech with the boys) took us back to the dealership that afternoon to pick the Silver Bullet back up.
Verdict: A problem with the Throttle Body. ?!??!?!? Never heard of it before. But it's still under warranty...and that's all that matters to me!
********************************
I went on my
annual Joli Retreat
on Saturday. This is when I go off by myself and make my final preparations before we start back to school.
I left at about 7 a.m. on Saturday morning...and got home at about 10 p.m. that night. I spent the majority of my time that day at Books-a-Million, with all my stuff, shown here...
....spread out across two tables.
It was so fabulous!
It was a productive, wonderful time...and I'm so blessed to have a wonderful husband who lets me do things like that!
**********************************
WHILE I was gone on my Joli Retreat planning our school for next year...Jas decided he just had to get a little work done and so he loaded up the chitlins and took them to work with him for a few hours on Saturday morning. It would be a tad cozy in his office if all five of them were in there...so he set the children up in the board room just down the hall.
He told me that he'd shown the children how to use the phone in the board room to call him, so they wouldn't have to walk down to him if they needed to talk with him.
Surprise! SURPRISE! They needed to talk to him quite a few times...even though I'm sure they just hated using that phone! (not!)
************************************
The kids and I have been super crafty this past week. Here is one project idea that we got from the
cutest little adoptive family ever
:
Decoupage Frames!
We cut out pictures from magazines and catalogs I'd been saving for just such a purpose.
And we cut.
And we cut.
And we cut some more.
And we were finally able to start gluing the pics onto the children's frames.
(Got these plain wooden frames for $1 at Michael's...love it!)
After gluing all the pictures on the frames...we "Mod Podge"d over all of it, to seal it.
The results give great insight into each of the children.
Daniel loves:
Legos
Dogs
Spaghetti
Noah loves:
cars
trains
legos
animals
Elisabeth loves:
flowers
God's Word
Lily Kay loves:
cats (big and small)
watermelon
hot dogs
remote-controlled vehicles
(LK took me at my word when I told them it was alright to overlap pictures on their frame!)
*************************************
From our Family Dictionary:
Plog - verb.
A cross between "clog" and "plug". Used frequently by the littles in our household...even though I've told them numerous times that this is not a real word, and I've given them alternative words to use that are, in fact, real.
Example: (E said this the other day) "...after they cut it all off, the drain got plogged up!"


***************************************
We were totally and completely blessed a few days ago to receive some hand-me-downs from our sweet friends Leah and Derek. Leah and Derek have two bio kids (7 and almost 5) and have just received a referral for a precious little 17-month old girl, who is waiting for them in China.
Since they now know they don't need Grant's baby clothes...guess who they decided to pass them down to?!?!?
And the cute monogrammed boy stuff? It's got a "G" on it. How cool is God?!?
I had the most fun going through 3 big bins full of stuff...it was like Christmas!


And this is just the 0-12 mos. stuff!
...that my friend Shanna and I were discussing not a week ago! Now I don't have to go buy them!
"Soft Thingies That Will Keep Gabriel's Head From Lolling All Over the Place in Car Seat"
....CHECK!
**********************************
Elisabeth hit the jackpot on Friday!
Does she look happy?
It was not only her turn to go out to Breakfast With Daddy that morning...
She chose to go to Huddle House with Daddy. And she ate all FOUR of her pieces of french toast (a first).
And for her time with Laoli, where did they go?
They went to visit our beloved
Dr. Kathy
...and they both got adjusted.
Elisabeth thought she was in heaven.
***************************************
Newest and Biggest Accomplishment by the littles at our House:
Blowing Bubbles!
In the picture in this post, you can see some chipmunk cheeks, especially on Daniel:
The chipmunk cheeks are a result of talking mama into letting them each chew TWO pieces of gum...in hope of upping their chances of blowing bubbles.
...we ended up with more "Raspberries" than bubbles!
But in pretty short order it started to thunder and lightning out there.
So they ran back into the kitchen, where Noah put a very big question to me:
"Which would you like better? Us be KILLED...or spit all over your house!??!"
For the record: I let them stay inside.