As my friend Vicki and I caught up last week
(on our drive to meet Haddi Ruth, more to come on that...)
she asked me what else has been going on in our house that I had
not
blogged about. And of course there is alot of random, totally miscellaneous stuff, so that made me think of: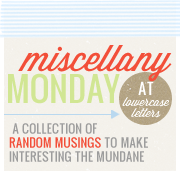 So I'm going to do a "Miscellany Monday" post - you know, just to get down all the Really Important Stuff that I haven't recorded yet.
Now, hmmmm....where to start?
**********************************
We went to our friends' Heather and George's blueberry farm on Saturday and had a ball! Well, it was hot and gnat-ty, but totally worth it because we brought home the most beautiful and most delicious blueberries ever!
The yummy blueberries are all safely tucked away in our freezer in gallon bags, awaiting their day to be smoothy-ized!
(Well, except the ones that I kept in the fridge to eat over the next few days...and well, except for the ones (lots of "ones"!) that never made it into a bowl or freezer!)
***************************************
I found out last night that when our back-door neighbor Mr. Robbie was introducing Lily Kay to someone at church last week and he said "....she lives in the house behind us..." Lily Kay piped up and corrected him: "No, Mr. Robbie! You live behind us!"
******************************
Lily Kay got the weirdest rash last weekend. On a Sunday morning...of course.
Convenient care wasn't open yet...so we watched it for a couple of hours. We watched it spread. So, when we thought Convenient Care was open, Jas headed there with LK (and E went too, at both girls' requests). Turns out it didn't open for another hour. It wouldn't have made sense to come home because they would have just had to turn around and head back again almost as soon as they got home...so they waited. Then 10 minutes before Convenient Care was set to open, Jas called and said they were coming home. What?!? He had checked LK again...and it was. all. gone. Go figure. That was the cheapest doctor visit we've had in a long time!
*****************************
Elisabeth has gotten into the jewelry making business!
E's sweet friend Emma gave her an American Girl beading kit for her birthday last month...and Elisabeth is loving it! It has
many
strips of paper in
many
different colors and patterns. You roll the paper up tight to make beads and then string them together to make bracelets or necklaces.
Here is her first creation:
*****************************
Well, here she is the day she was born:
Still can't see her very well, huh? I didn't get any good pics (this was the only one I got actually). Take my word for it -
she's precious!
And here is one of Sabrina's other treasures the day after Haddi Ruth made her debut:
This is Levi (3.5 y.o. - adopted from Phillipines 2.5 years ago) and LK napping together in my bed when Levi, Kati and Eli spent the day with us. As much as I would
not
have believed this a few years ago, it is true:
adding several other children into your own brood actually makes things easier because they keep each other occupied!
************************************
But I just wanted to share that I
am
working on some craft projects because that is not something that happens too often around here! They come in fits and spurts. I get a wild hair...I make something...I remember how messy craft project are and how they usually don't turn out the way I want...and I vow never to do a craft project again....
IF these turn out well, I'll share...

**********************************************


Pictures of Daniel and Elisabeth when they got picked to be part of "The Band" at our library last week.
************************
We've been eating alot of watermelon lately.
And we've been swimming alot lately.
I mentioned Chippyye in
THIS
post. And she still totally deserves her own blog post...but that will have to wait for another day...
BUT, when I went to upload pics from the memory card in my point-and-shoot camera (not my fancy-schmancy camera), I found these shots...
Chippyye visiting with birdie in Chicago:
(Note to self: Remind Noah that he needs to ask me first when he wants to borrow my camera!)
******************************


And lastly, the kiddos had a Slumber Party over the weekend:
They all slept on mattresses on the girls' floor - and they couldn't have been happier!
Truth be told: they would love nothing better than to just have one big 'ole room that they all share! It's not gonna happen...but they can dream, can't they?!?
And I'm just glad that they love each other so!